Why is it important to use eye contour?
May 10, 2022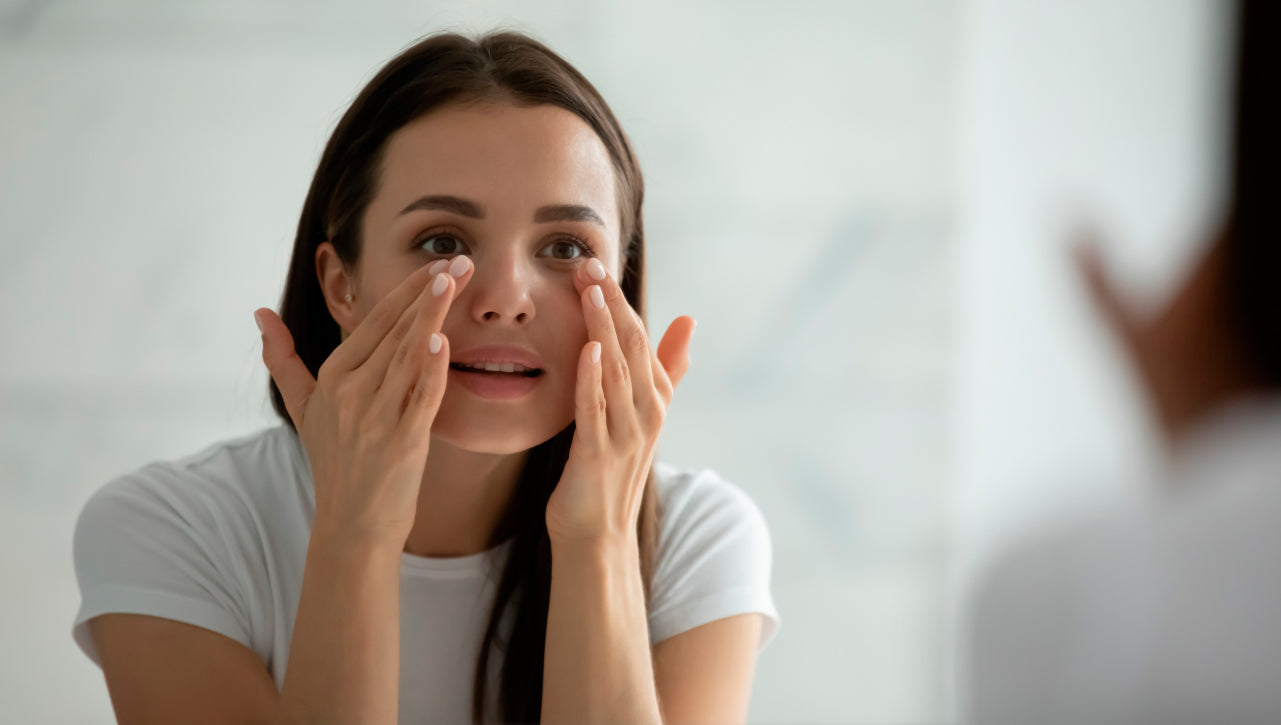 If we talk about the eye contour, we must know all the characteristics that this area possesses. The skin that covers it is extremely thinner than the rest of the face, this makes it more fragile and sensitive; It has a smaller number of collagen fibers and elastin which does not give it the elasticity and firmness that the rest of the skin has. At the same time it also has less number of sebaceous glands, which makes it an area with a minor protective film. But we must also know that it is a very irrigated area by capillaries that go to the eyeball. An area that does not have it easy, since, we also add continuous daily activity, such as flickering.
So it deserves specific care, master formulas that adapt to all the needs presented by the area.
Many times we find a dilemma, and we confuse dark circles.
Today we are going to deepen the care of the bags that is usually an aesthetic concern, since it draws us a tired and fatigued look.
We recognize the bag quickly, since the low -eye zone looks bulky.
It may be different causes that promote them, such as retention of liquids derived from different origins, including hormonal, allergies, lack of sleep, abuse salty foods ...
From Maystar we propose different tips with effective solutions:
He sleeps a little higher than the rest of the body, a higher pillow will help, try not to skip the 8 hours of sleep, it is one of the main causes that affects the most, not only to the skin but to health in general.
Reduce salt in the diet.
Avoid tobacco.
Drink abundant water and includes draining infusions such as horselary infusion.
It effectively treats allergy symptoms.
Get a specific daily ritual for the area, from the Maystar laboratories you propose Caviar Therapy, an intensive protocol consisting of a specific cream and mask for the delicate area.
A line based on the delicious and luxurious caviar, with antioxidant, remineralizing, reaffirming and illuminating properties. To the formula, drainage assets are added to avoid retention of fluids and moisturizers to increase the water level of the area.
The Caviar Therapy eye contour cream We will apply it day and night with clean skin, to improve the absorption, we will make movements with small pumps from the tear abroad, and we will end up with small and soft touches with the fingertips of the annular and heart fingers, the ones that have the least force.
The specific mask for Caviar Therapy's eye contour, We will apply it 2 to 3 times a week to intensify the prevention treatment, let it act at least 5-7 minutes and remove with a moistened cotton.
Rituals with effective solutions so that your gaze can reflect all your beauty.
Angela Tejedera
Cosmetologist-dietist