What are the best face masks?
June 01, 2022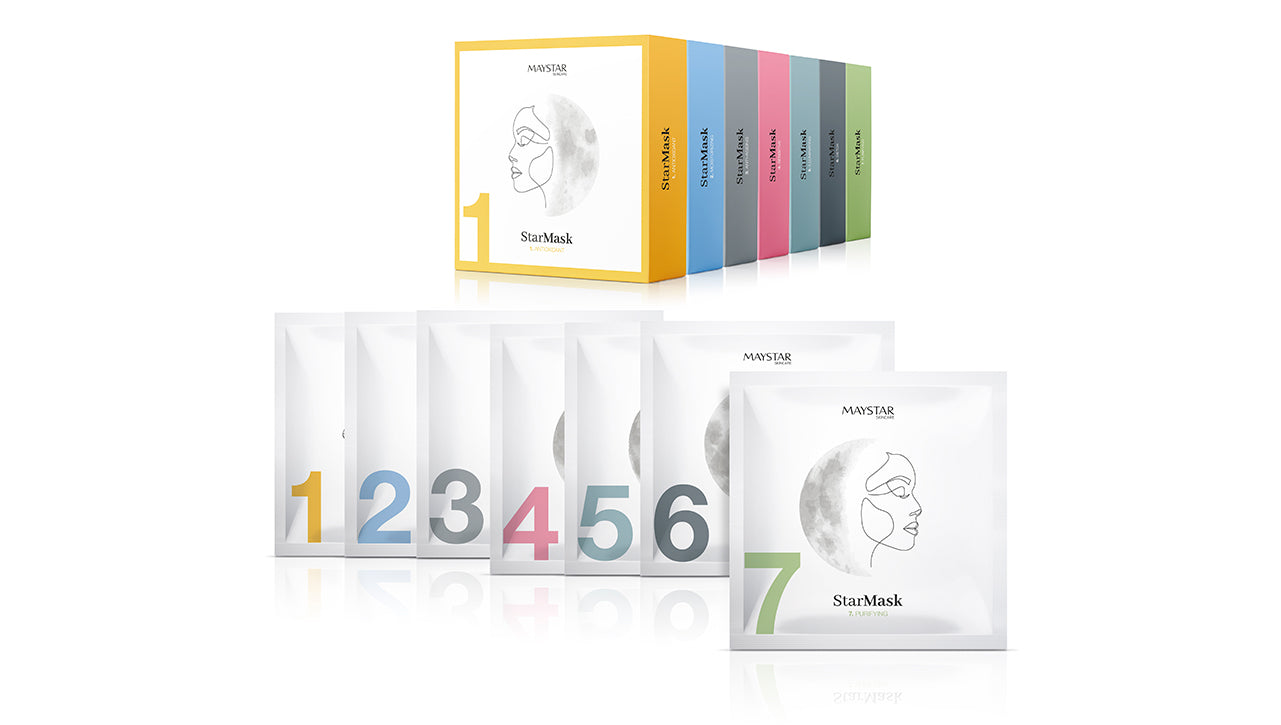 It is time to incorporate to your weekly beauty ritual, an intensive treatment that helps us improve the skin.
Finding that moment, where the facial mask becomes the protagonist, time for us, to pamper ourselves, relax and remove stress, while we benefit from the assets of the formula, increasing the beauty of our skin.
So that the cosmetic products of our daily ritual are as effective as possible and that our skin can absorb more assets, we need to have the skin hydrated and free of dead cells. In this way, our skin will receive daily care in a more optimal way.
To achieve this we must incorporate into our weekly ritual, an exfoliant and a facial mask.
Our Exfoliant Scrub with vitamin C of Essential Face, will help you remove dead cells and leave a clean and uniform skin, helping the absorption of the facial mask assets that you apply below.
The SCRUB works 5 minutes with ascending circular maneuvers, neckline, neck and face and check it out with warm water.
But, What is the best facial mask?
It will depend on the needs of your skin. The skin is an organ that is subject to continuous oxidative stress, temperature changes, hormonal changes, food changes, stress ... Everything that happens to you internally is reflected in it, so it is important to know what stage we are living, its needs and how to alleviate them.
That is why Maystar has formulated Starmask, A luxurious face and neck treatment, based on 7 facial masks inspired by the phases of the moon and its cycles, 7 masterful formulations, to live 7 different experiences according to the needs of each stage.
They are performed with dehydrated geloid dust, which on contact with water becomes gel, creating a seal and skin occlusion, ideal to help the absorption of assets.
The alginate, after its application, dries, and allows us to remove the one -piece mask.
We are going to discover the 7 cycles and what active ingredients each of its 7 formulas hide.
Vital cycle 1, corresponds to the Antioxidant Starmask, a facial mask with active ingredients that help us neutralize free radicals palling oxidative stress, among them we will highlight the power of turmeric, açai berries and lemon particles.
Vital cycle 2, corresponds to the Moisturizing Starmask, a facial mask that thanks to hyaluronic acid and seaweed, you will increase the water level of your skin.
Vital cycle 3, corresponds to the Starmak anti-August, where the main assets such as Hibiscus and Ginseng root will help us avoid premature aging.
Vital cycle 4, corresponds to the Starmask sensitive, one of the most soothing formulations for the most reactive skins, thanks to its rich formulation in seaweed and seawater powder.
Vital cycle 5, corresponds to the Illuminating Starmask, an ideal facial mask to recover the light and unify the tone, we highlight assets such as rice starch and raspberry extract
Vital cycle 6 corresponds to the Starmask Dotox, an ideal facial mask to detoxify all skin types since the vegetable dust we find in its formula, helps us eliminate toxins.
And finally, the life cycle 7, the Purifying Starmask, where white clay, algae and cucumber extract, will help us balance the sebaceous gland, avoiding the bacterial proliferation of mixed and fat skins.
If you want to live a different experience, do not stop joining the last trend in Maystar facial masks, your skin will notice.
Ángela Tejedera
Cosmetologist-dietist